PREEN GARDEN WEED PREVENTER 16#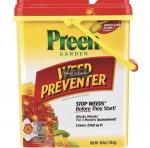 Prevents summer and winter annual weeds from growing in flower and vegetable beds and around trees and shrubs for up to three months. For lawn weed control, see the products listed under lawns. Without weeds competing for sunlight, nutrients, and space, your plants will grow larger and stronger. Preen Garden Weed Preventer prevents
new weeds from growing, it does not kill existing weeds. Preen Garden Weed Preventer works by creating a chemical barrier in the top 1 to 2 inches of the soil that prevents cell division in developing weed seeds.
U/M

/ EA

Price

$33.95

Part Number

LG283855