MANNA PRO START TO FINISH COOL CALORIES 100 HORSE SUPPLEMENT 8#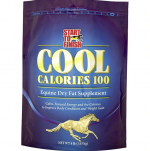 100% dry vegetable fat supplement for all classes of equine.
Provides essential calories needed for weight gain and to improve over-all body condition.
Easy to use prilled (free-flowing beadlets) means no liquid spills, no
mess.
Ideal for mixing with grain or pelleted feeds.
Made in the usa.
U/M

/ EA

Price

$34.95

Part Number

AH078272