MANNA PRO COLOSTRUM SUPPLEMENT MULTI-SPECIES 1#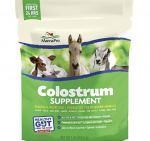 A multi species supplement that provides colostrums fortified with vitamins and minerals for young animals.
For calves, foals, goat kids, lambs, fawns, elk calves, baby pigs and puppies.
For the development of natural immunity in the first days of life.
Made in the usa.
U/M

/ EA

Price

$18.95

Part Number

AHMPCOL