BANIXX WOUND & HOOF CARE 16 OZ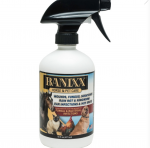 The fast-acting, affordable answer for wounds, fungus, rain-rot, scratches, thrush, and white-line disease.
Zero color, odor, or sting.
Steroid-free, antibiotic-free, and bio-degradable.
With a minimum shelf life of three years, remains viable after freezing or long-term exposure to heat and sun.
Made in the usa.
MSRP

$22.99

U/M

/ EA

Price

$22.99

Part Number

AH075005